Learn The World Famous Bang Muay Thai System
There's more to Bang Muay Thai than throwing a good punch: it's a total-body workout with a whole variety of health benefits. At Florida Combat Academy in Cocoa and Rockledge, our Bang Muay Thai lessons will engage newbies and veterans alike with aerobic and anaerobic exercises, hands-on coaching, and an exciting new skill set that will be a point of pride both on and off the mat.
Why Is Bang Muay Thai The Best in Cocoa, Rockledge, And Beyond?
We are the only academy in Brevard County that is authorized to teach the Bang Muay Thai system under Sensei Duane "Bang" Ludwig. Ludwig was UFC coach of the year twice and is widely considered the best striking coach in Mixed Martial Arts today. The Dutch Muay Thai system he has created is by far the most effective for MMA and self defense. Coach Dennis Davidson has been training Dutch Muay Thai for over a decade. His ability to break down the information in a way that is easy for people to understand and replicate is second to none. This is what Joe Rogan had to say:
"Duane was a world class kickboxer and an awesome MMA fighter. He held the record for the fastest knockout in the UFC. But what he really excels at even more than fighting, which he was really awesome at fighting. He is a really fantastic coach. One of the things he has done is broken down his system. All of his martial arts techniques are written in books. I have never seen anyone more thorough.
— Joe Rogan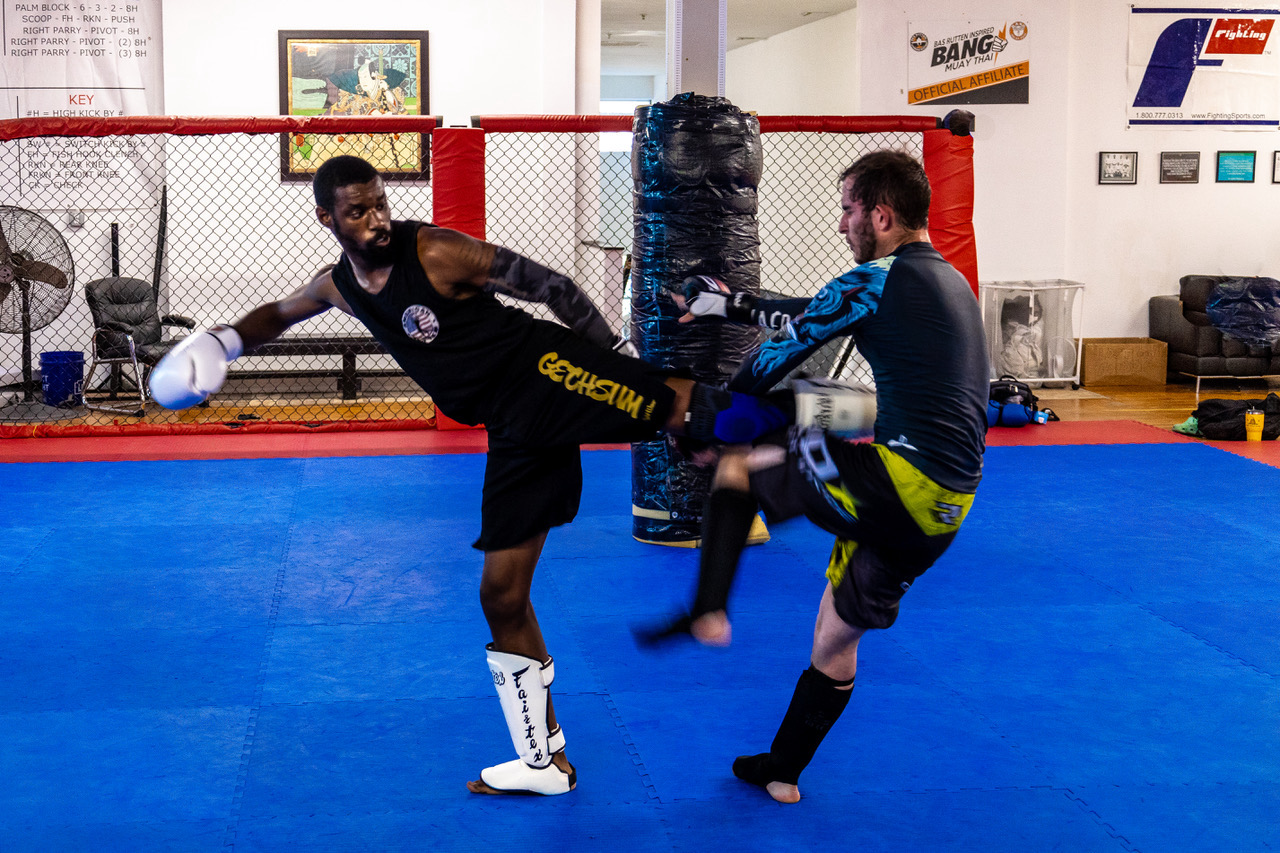 Kick Yourself Into High Gear
Bang Muay Thai classes aren't just a way to learn important self-defense skills—they're also a great method for staying healthy. By practicing Bang Muay Thai at Florida Combat Academy, you're getting one of the healthiest, most sustainable, and most fun total-body workouts in Cocoa, Rockledge, & Viera.
An hour of Bang Muay Thai can burn up to 1,000 calories!
Let our instructors work with you to help you reach your fitness goals in an effective, supportive, and fun environment. We can help you:
Trim down and build lean muscle
Feel better in your own skin
Develop a workout routine that pulls its weight
Grapple with every challenge life has to offer
Don't Get Boxed Into a Boring Workout—Try Bang Muay Thai at Florida Combat Academy in Cocoa, Rockledge, & Viera!
Whether you're a beginner or an expert, come see us at Florida Combat Academy of Cocoa, Rockledge, & Viera to learn critical self-defense skills, build confidence, or simply to burn some calories and enjoy a fun workout experience with our amazing staff. We're open to all experience levels, all ages, and we're always happy to help you meet your fitness goals!

Come see us today or fill out the short form on your screen for more info!