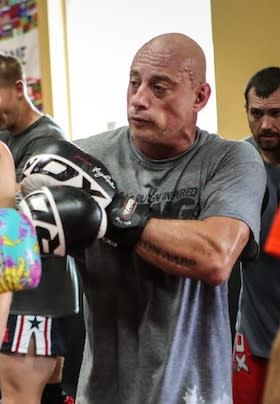 Dennis "Galinho" Davidson
Dennis Davidson is a professional mixed martial artist and full-time instructor at Florida Combat Academy. Dennis started studying martial arts at age 14, and received a black belt in Karate at age 18. Throughout his 30 year journey in the combat arts, he has studied various arts including Muay Thai, Kenpo, Boxing, and Wrestling.
In 2004 he discovered his passion for Brazilian Jiu-Jitsu. A Brazilian Jiu-Jitsu Black Belt under 5 time World Champion Daniel Moraes, Dennis has multiple gold medal finishes in tournaments, such as Grappler's Quest, NAGA, and other grappling events. In 2010, Dennis had multiple medal performance at the IBJJF No-Gi World Championships. After taking several years off due to injuries, Dennis is again competing at the Black Belt international level.
A former public school Mathematics teacher, Dennis has direct experience with the issue of bullying in schools. Our Bully Prevention program is a reflection of this.Dennis was recently featured in the world-famous Gracie Breakdown, where Ryron Gracie analyzed a situation where Dennis stepped in to subdue a violent attacker. Ryron said the following: "THIS IS WHAT IT'S ALL ABOUT! The more we learn how to fight, the less likely we are to ever get into a fight. HOWEVER, the more we train, the more willing we are to step in to protect the people (or dogs) who can't defend themselves! I was going to do a Gracie Breakdown, but Dennis Davidson said and did everything so beautifully that I was left speechless."Dennis is the only Black Belt instructor in Brevard County to medal in a World Championship!